Running on Hard Surfaces May Be Better Than Running on Soft Surfaces
Most runners believe that running on soft surfaces is easier on the body and protects them from jarring and impact injuries. However it appears that there is very little research evidence that a softer surfaces such as grass, sand, gravel or dirt tracks are beneficial to runners, in fact the opposite may be true. Soft surfaces may lead to more injuries such as twisted ankles, knees and pulled muscles especially if the surfaces are uneven rather than smooth.
Reviews of the literature show that there are no definitive comparative studies tracking the relative injury rates for large numbers of people sunning on soft or hard surfaces. Most people assume the obvious that the forces and impacts on your feet, knees, hips and legs will be much less on dirt or grass than on hard concrete. But are the injury rates different after you account for the unevenness of the surfaces and the way the runners gait changes with the surface?
The limited studies that have been done suggest that the body adjusts to different surfaces automatically to even out the impact. When you jump from a table to the floor you tend to automatically bend your knees as you land cushioning the impact on your feet, knees and ankles. Running with your ideal stride length and pace are also important for reducing injuries.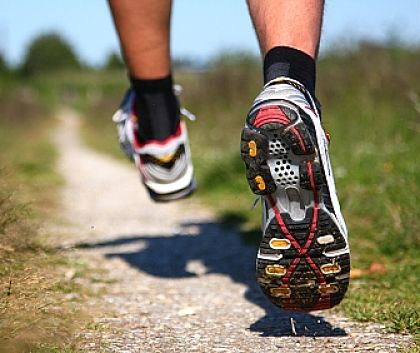 Researchers in the 1990s found that when runners were faced with various running surfaces with different stiffness, they responded by changing the stiffness and flexibility in their legs to compensate for the differences.
For example runners responded by tensing their muscles more or less, and bending their knees more or less to compensate.
The outcome was that their total up-and-down motion remained perfectly constant.
When you're running, your legs function as springs to absorb the impact of your foot strike.
The ground provides another spring to absorb some shock.
Research has shown that when the springiness of the ground was changed, runners automatically adjusted the springiness of their legs by altering knee action and muscle tension.
The result of these adjustments is that the jarring force on their muscles and joints remained the same regardless of the surface.
When you run on a hard surface, your body responds by decreasing the stiffness of the limbs and making adjustments allowing greater flexibility to reduce the impact. You flex your hips and knees. On flat, smooth, paved surfaces every stride tends to be exactly the same and therefore your joints and muscles are stressed in exactly the same way with each stride. But this exact repetition may cause strain.
On a soft surface, your legs become stiffer and there is less need for cushioning and flexibility through bending your knees. But there is a need for variation, as no two steps are the same. This provides variety in the impacts on your body, perhaps reducing the risks for overuse injury. Too much unevenness, though, carries risks such as a turned ankle or twisted knee. Running on soft surfaces, especially sand, can help strengthen the lower leg muscles. It can also help prevent injuries such as ankle sprains and shin splints. Running in parks and on forest trails can also provide a welcome variety to your training plan and can also improves timing, coordination and can reduces boredom. It is wise to use a trail running shoe, which has extra traction and ankle support.
These responses appear to explain the finding from studies comparing the force on the feet on different surfaces.
No difference in the instantaneous forces were found when subjects with force sensors in their shoes, ran on concrete, asphalt, grass or a synthetic track.
Because of the profound changes in running action most people who want to change from a soft to a hard surface, or vice versa, should do it gradually to play safe.
There may also be problems if you train on soft surfaces and then run competitively on hard surfaces because the gait will be different and this may lead to other problems and lead to fatigue or muscle strain including side stitches.
Changing your running surface is similar to changing other aspects of your training such as changing your shoes, increasing your distance, pace or some other aspect of your training program.
Abrupt changes in these things can lead to injuries and disrupt your training program.
Given there is no established evidence that running on softer surfaces prevent injuries, many people prefer to training on the surface that they compete or race on. The favorite training surface for most runners is asphalt. Concrete is very hard and grass and dirt tracks may be uneven and pose additional injury rinks.
Advice for Various Surfaces
Dirt and gravel: A well-maintained path covered in crushed gravel is the best surface you can find - firm and flat but yielding. Traffic-free asphalt and gravel roads are close behind. Caution is needed on trickier trails with roots and holes.
Concrete: The hardest surface of all.
Many runners try to avoid it because it is unyielding and you are totally reliant on the cushioning in your shoes. But studies have failed to find any greater injury risk on concrete compared with asphalt. Sidewalks are generally level and generally car free but you will have to cross many roads.
Asphalt: Its everywhere and very convenient.
But cambered roads that slope away from the centre for drainage can put a strain on your joints if you always run on the same side, as you will always be on an angle. Alternate sides it traffic permits.
Grass: Running on manicured grass such as golf courses, parks and tennis courts that are very even can be a real joy.
But grass can be bumpy, uneven and may have holes or 'soft spots'. This increase the risk of twisting your ankle or knees. Many runners find it tiring as they have to concentrate so hard to watch out for bumps and hazards. Well used grassy paths are the best option.
Sand: The beach can provide one of the best and most scenic workouts a runner can get. Running on sand can strengthen your arches, ankles and muscles below the knees. Many runner find that it is the best and quickest way to build power in your lower legs. Running on sand is known to consumes more energy, especially climbing sand hills and running in soft dry sand. The impact force on your limbs and feet is lower on sand generating less stress and allowing you to work harder. You can choose between the soft dry sand and the harder wet sand and alternate between the two. The hardness depends on the tide and other conditions. You can run with or without shoes. Running bare foot can allow a fuller range of motion and allows you to deal with wet surfaces. You have fewer restrictions and therefore you can strengthen your ankles and feet. Running on sand has a negative side as it increases the risk of certain injuries such as strain your Achilles tendons and calves.
Synthetic track: These surfaces are generally softer than asphalt and provide an ideal smooth surface. The constant turning around a circular track may lead to injuries.
Related Articles for Running and Walking
=> How Do You Stay Injury Free When Running, Training for Events
=> Best Tips for Jogging and Running with Dogs
=> Start to Run, Get the Benefits of Running Naturally, Simply, Easily
=> Stretching Exercises Before a Run or Workout May NOT Reduce Injuries
=> Proven Benefits of Short, High Intensity Runs, Walks, Workouts
=> Tips for Running with Jogging Strollers: Pros and Cons, Stroller Holding Guides
=> Brisk Walking versus Running or Jogging - Which is Better and Why?
=> How to Run Faster and Longer by Using your Magic Pace
=> Brisk Walking versus Running or Jogging - Which is Better and Why?
=> Q&A Do Menus with Walking Times to Burn Calories Lead to Healthier Choices