More Active at Home and Work - Get Up, Stay Active, Keep Healthy, Avoid Inactivity
Some leading companies have started successful strategies to get their workers to be more active at work by providing opportunities for exercise breaks, modern 'hot-desk' office designs and even 'stand-up' desks to cut down the time spent sitting down. Research has shown that sitting down for prolonged periods of time is bad for your general mental and physical health and impedes productivity. The hazards from prolonged periods sitting down, appear to apply even when you have regular physical exercise after work. Sitting down for hours and hours at a time, is the fundamental problem. The new office and work-practice designs eliminate the permanent office desk and the slovenly habits associated with it.
Getting people to avoid sitting down for long periods of time is partially about office design, using 'hot desks' and 'stand-up' desks to encourage people to move around and not be become fixtures at their permanent desks. But it is also about encouraging people to get up from their chairs ever hour of so a go for brisk walks. It is also about personal trainers, group trainers and work based programs for exercise breaks and physical activity sessions. The office design concept is referred to as activity based working - ABW for short which is a Dutch office design philosophy encourages mobility and flexibility by
eliminating paper and published documents (everything is online),
land line phones (replaced with mobiles),
desktop computers (replaced with laptops with Wi-Fi system access)
un-assigned desks (everyone picks a new vacant spot each day and works in temporary teams).
ABW office design concepts are focused on improving productivity, boosting morale, reducing stress, saving paper, reducing energy consumption and ultimately saving money by increasing productivity.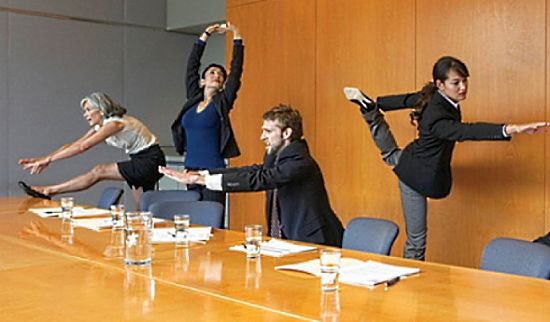 An Australian research study has shown that people who sit for more than 10 hours a day are 40 % more likely to die within 3 years than those who sit for less than 4 hours. Those who sat for between 8-11 hours a day were found to be 15 % more likely to die. The study was based on statistics for a rather large group of almost 250,000 Australian adults, older than 45 years.
The association between hours spent sitting and increases in mortality of about 7%, was consistent for all age groups, sexes, body mass index categories, and physical activity levels and for healthy subjects.
The conclusion from the study was that prolonged sitting is an important risk element for non-specific mortality, and interestingly was independent of physical activity. The recommendation was that public health authorities should focus on encouraging people to be more active AND reducing the number of hours they spend sitting down especially for hours at a time without a break. This is exactly what most people do at work - sit down for 8 hours or more each day with perhaps only three breaks.

When people sit in their chairs for long periods of time the body's metabolism changes, their circulation changes, blood sugar levels rise. Inactive people who sit for long periods of time have a higher risk of heart failure, diabetes and early death than fellow-workers who take regular breaks from their sitting time.

Various research studies have shown that when office staff got up off their chairs for frequent short walks, equivalent to strolling to the tea room, or used the stairs they substantially lowered their blood sugar levels. Statistics for government employees in Australia showed that found that office-based, call centre and retail staff spent and average of three-quarters of their time at work (77 %) sitting down.

A summary of the risks associated with prolonged time sitting down and being inactive is shown in the image below.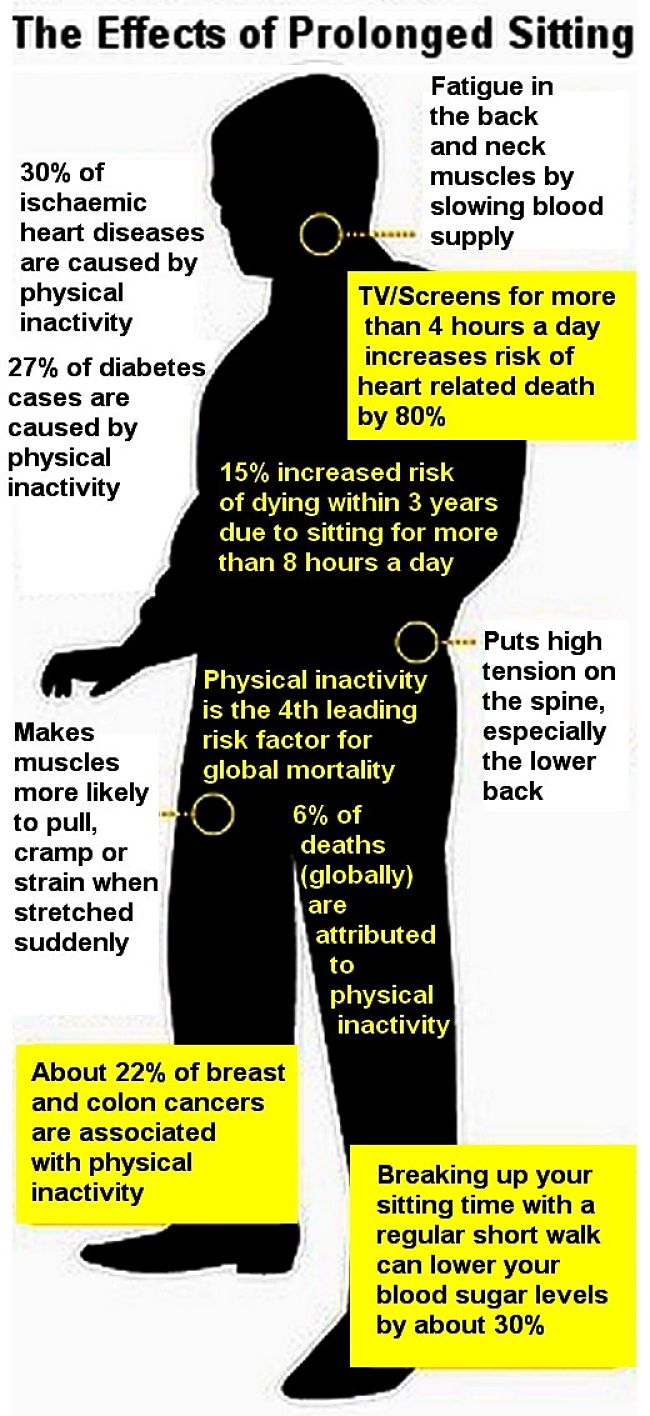 Four major Australian companies have been trialling activity based working with new office design and practices concepts. Workers begin each day in their 'home areas', but without a designated desk that encourages the accumulation of paper documents and other inefficiencies. They bring their office laptops from home or get them from their personal lockers. Because they are not tied to a desk they are free to roaming about the office spaces in the wireless-powered building. They work by moving from stand up desks, to couches, to conference tables ans inform open-plan meeting spaces. They can use their laptops at standing desks, project information onto smart boards or use temporary private booths or rooms fro each tasks they are working on.

The benefits of the new system for one company were substantial:
50% reduction in use of paper,
25% cut in energy consumption
$1 million savings annual by doing away with desktop computers, office furniture and landline phones.
The Macquarie Group estimated total savings of $10 million for one office building.
Major benefits through improved productivity of staff, though this is hard to quantify.
Health Benefits of Physical Activity

Various health authorities recommend that regular moderate physical activity for least 30 minutes, at least 5 days every week, or 20 minutes of very vigorous activity 3-6 times per week is essential for sustaining good health. Young people should aim for at least one hour of regular exercise every day. Regular physical activity has been shown to benefit most organ systems of the body including mental abilities and general feeling or well being. Consequently it helps to reduce the risks of a broad range of diseases and health problems.

Studies have shown that the major benefits or regular physical activity are:
Promotes psychological well-being.
Reduces feelings of depression and anxiety
Helps older adults to remain stronger and more agile and reduces falls and accidents
Helps build and maintain healthy muscles, bones and joints
Helps reduce the loss of muscle mass that usually occurs as people get older
Helps to maintain a healthy weight
Reduces the risk of developing colon and breast cancer
Reduces blood pressure in people who already have high blood pressure
Reduces the risk of developing high blood pressure
Reduces the risk of developing diabetes
Reduces the risk of dying early from various conditions such as heart disease
Regular physical activity is associated with reduced mortality rates for various age groups of younger and older adults. Even moderate activity helps.

Regular physical activity boosts aerobic and cardiovascular fitness, which helps decrease the risk of heart disease and strokes. It also help reduce blood pressure. High blood pressure is a major fundamental cause of death from heart disease and strokes. Regular physical activity can delay or prevent the onset of high blood pressure, and can also help lower blood pressure in persons with hypertension.

Regular physical activity is linked to supporting joint structure and functioning, muscle mass and strength, and bone health. Weight-bearing and resistance physical activities are very helpful for supporting bone development during childhood and adolescence. Regular exercises, including weight-lifting and resistance exercises are important for maintaining bone mass in adults.

Regular physical activity such as muscle-strengthening exercises, weight-lifting and working out with resistance bands, appears to lower the risks of falls and fractures in the elderly, probably by increasing balance, muscle strength and dexterity. Also physical activity helps many people with arthritis.

Comparative Importance of Physical Activity as a Risk Factor

The table below ranks the leading risk factors causing of death in various income group throughout the world (data from 2004). This shows that Physical Inactivity is implicated as a contributing factor for about 6% of deaths throughout the world. This increases to almost 8% in the high income countries. Physical inactivity also contributes the other risks and causes of death. Physical Inactivity is ranked 4th highest cause in moderate and high income countries and 8th in low income countries.
Ranking of 10 leading risk factors for causes of death by income group (2004)
| World | | | |
| --- | --- | --- | --- |
| Rank | Risk Factor | Death (millions) | Percent of Total |
| 1 | High blood pressure | 7.5 | 13 |
| 2 | Tobacco use | 5.1 | 9 |
| 3 | High blood glucose | 3.4 | 6 |
| 4 | Physical inactivity | 3.2 | 6 |
| 5 | Overweight and obesity | 2.8 | 5 |
| 6 | High cholesterol | 2.6 | 5 |
| 7 | Unsafe sex | 2.4 | 4 |
| 8 | Alcohol use | 2.3 | 4 |
| 9 | Childhood underweight | 2.2 | 4 |
| 10 | Indoor smoke from solid fuels | 2 | 3 |
| High - Income Countries | | | |
| Rank | Risk Factor | Death (millions) | Percent of Total |
| 1 | Tobacco use | 1.5 | 18 |
| 2 | High blood pressure | 1.4 | 17 |
| 3 | Overweight and obesity | 0.7 | 8 |
| 4 | Physical inactivity | 0.6 | 8 |
| 5 | High blood glucose | 0.6 | 7 |
| 6 | High cholesterol | 0.5 | 6 |
| 7 | Low fruit and vegetable intake | 0.2 | 3 |
| 8 | Urban outdoor air pollution | 0.2 | 3 |
| 9 | Alcohol use | 0.1 | 2 |
| 10 | Occupational risks | 0.1 | 1 |
| Middle - Income Countries | | | |
| Rank | Risk Factor | Death (millions) | Percent of Total |
| 1 | High blood pressure | 4.2 | 17 |
| 2 | Tobacco use | 2.6 | 11 |
| 3 | Overweight and obesity | 1.6 | 7 |
| 4 | Physical inactivity | 1.6 | 7 |
| 5 | Alcohol use | 1.6 | 6 |
| 6 | High blood glucose | 1.5 | 6 |
| 7 | High cholesterol | 1.3 | 5 |
| 8 | Low fruit and vegetable intake | 0.9 | 4 |
| 9 | Indoor smoke from solid fuels | 0.7 | 3 |
| 10 | Urban outdoor air pollution | 0.7 | 3 |
| Low Income Countries | | | |
| Rank | Risk Factor | Death (millions) | Percent of Total |
| 1 | Childhood underweight | 2 | 8 |
| 2 | High blood pressure | 2 | 8 |
| 3 | Unsafe sex | 1.7 | 7 |
| 4 | Unsafe water, sanitation, hygiene | 1.6 | 6 |
| 5 | High blood glucose | 1.3 | 5 |
| 6 | Indoor smoke from solid fuels | 1.3 | 5 |
| 7 | Tobacco use | 1 | 4 |
| 8 | Physical inactivity | 1 | 4 |
| 9 | Suboptimal breastfeeding | 1 | 4 |
| 10 | High cholesterol | 0.9 | 3 |
Related Articles with Activity and Keeping Fit Advice
=> How Gardening is Good Exercise for Keeping Active Prolonging Life
=> How to Stay Active While Sitting at Work - Tips, Methods, Devices
=> Exercise Intensity, Duration, Frequency are Vital for Fitness, Losing Weight
=> Pedometer Use - Counting Steps Guide for Fitness and Weight loss